Phuket is renown for its natural beauty and fantastic ocean view. This island in Thailand has beautiful seas, breathtaking island views, and white sand beaches. A very recommended place for holidays for with family. The main reason why people are coming is it's a well-known spot for film shooting. Here are some choices of Thai beach villas for your vacation.
Naroua Koh Tao Luxury Villas
Naroua Villa Koh Tao offers you the atmosphere of natural wilderness with mountain views and all five-star accommodation facilities. Here you and your family can enjoy an experience in a beach villa Thailand nothing can compare. In addition to stunning scenery and exotic environments, Naroua offers several extraordinary facilities:
1. A spacious living room and large master bedroom
2. A large sun deck and comfortable lounge chairs
3. Private pool
4. Household amenities, such as a spacious kitchen and a luxurious bathroom
5. And some free services such as:
Daily cleaning

Tea, coffee and mineral water

Taxi transfer on arrival and departure

Shuttle service from 8 am to 10 pm

Concierge service from 8 am to 8 pm

24-hour staff are on site
Villa Baan Amandeha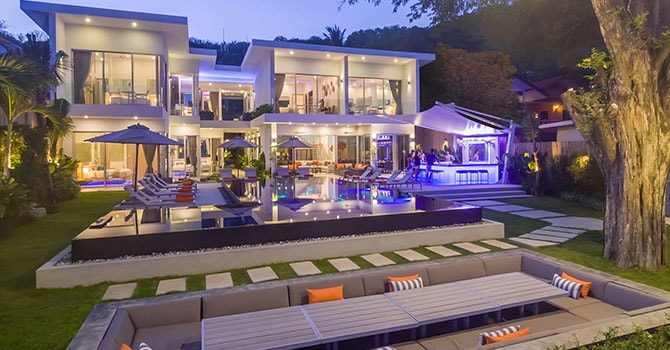 A piece of heaven. This villa is located on the Tanjung Panwa peninsula, right in the ideal spot for those who want to explore the southern islands of Phuket. It has no less than ten bedrooms, each with a bathroom, so it is enough to accommodate 30 people and is suitable for trips with a big family. Plus, there are several jacuzzis and infinity pools while enjoying the ocean view. This villa has an assistant service that cleans the villa and a concierge to answer all requests and questions during the holidays.
The Beach House – Phuket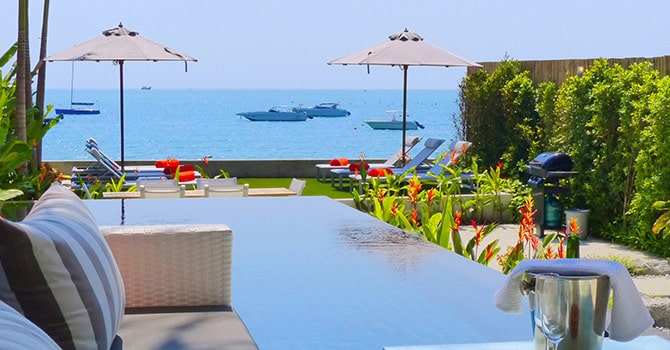 One of the fantastic villas with a view of Ao Yon Bay is The Beach House. It has three bedrooms and can accommodate up to 8 people. The indoor decoration is full of luxury, including a swimming pool in an outdoor garden while enjoying the beach views. Plus, the location is close to several local tourist attractions – restaurants and bars.