Visit Myanmar, Try the Impressive Experience of Flying a Balloon in Bagan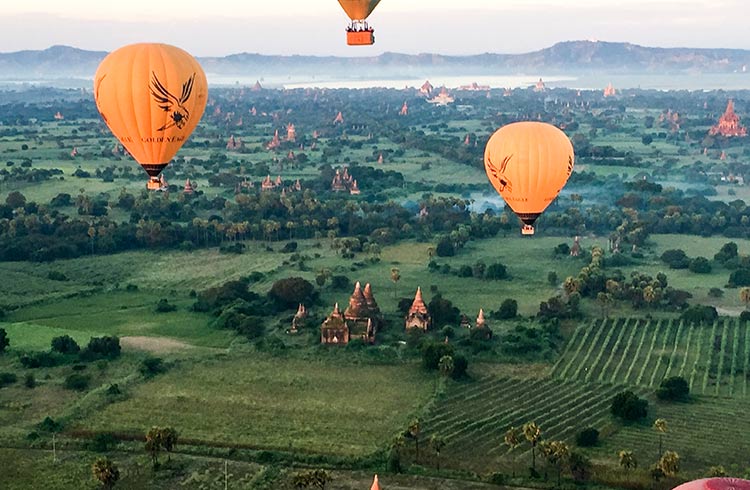 Some places in myanmar hold memorable reminders of past royal history. Bagan was among them. Many buildings of some sort are scattered in Bagan. Needless to say, it's a special feature of Bagan. Yet, there is one icon owned by this historic area of myanmar.
The icon in myanmar is to look at the city using a balloon. They are not just balloons that go into the sky. Tourists could fly in the balloon to enjoy a spectacular panorama of the Bagan with scattered temples.
Bagan City which is an ancient city in Myanmar can be taken around 10-12 hours by road from the former capital of Myanmar, Yangon. If you are visiting Myanmar and need a place to stay before going to Bagan, please visit the website https://mercureyangonkabaaye.com
Ancient temples are shrouded in morning beauty
Sunrise view in the morning becomes a tourist attraction presented to tourists on a balloon. If the weather is sunny, the scattered temples appear towering between the trees and other buildings. Such a panorama makes it seem as if tourists go through time to the past. It feels like seeing the temples when their heyday in ancient times. The balloon will float for about 45 minutes.
Of course the camera becomes an item that must not be left behind in order to capture the panorama presented from the balloon. Even so amazing, tourists can not believe the shots.
The balloon flying season in Bagan usually takes place between October and April. That's because in that time span, the weather in Bagan is usually sunny so that balloons can fly into space.
There are two types of flight packages. One is a classic worth 340 US dollars per person. Later tourists will be picked up from the hotel and given a light breakfast before flying. For this package, the balloon capacity is usually 10 people. One more package is a premium at a price of 450 US dollars per person. Premium flights are filled with a few people, only 8 so it feels more private. This package also includes an interactive tour and a continental breakfast after flying.
If you want to try out the unforgettable sensation by riding a balloon in Bagan, you should order well in advance. This balloon tour is popular with tourists from all over the world so it is often full, especially during international holidays such as Christmas and New Year.